I have a super thick lawn and I'm going to guess that you might have a dense patch of grass yourself – so only the strongest battery powered lawn mowers will do for us.
Most cordless electric mowers will do the job alright for the typical homeowner but only the strongest mowers will perform well in all situations and environments. Only these battery mowers rival the power of gas.
The mowers I've featured on this page are the best, the strongest, and the most feature packed options available. For the most part they all:
are self-propelled
have wide cutting decks
have the largest and most powerful motors
can cut large lawns on a single charge
will not bog down in thick or tall grass
can mulch just as good as gas-powered mowers
can cut wet grass if needed
When shopping for a cordless electric mower the strength of your mower's battery and motor is very important.
Nobody wants to mow their lawn in stages where they have to wait for a battery to recharge just to finish the job and nobody wants their mower to bog down in thick turf just because they missed a regular mow and the grass got a little over grown.
This page is long; I've personally purchased and tested most of the mowers featured below. I've invested thousands of dollars on these units and I will give you a lot more info on them than you can find on the side of the box or on a stores sales page.
Before I get to the reviews and comparisons let's start with a table that lists the most powerful battery mowers on the market today in order of voltage.
The Strongest Cordless Mowers: Last Updated Winter 2021
Further down this page I have taken the time to discuss, review, and compare each of these units separately while also managing to keep their relative price points in mind. The links below will jump you directly to my review of each model each of which can be found by simply scrolling down this page.
| Mower | Volts | Self Propelled? | Deck Width (Max) |
| --- | --- | --- | --- |
| Yard Force | 120 Volt | Yes | 22″ |
| Sun Joe iON100V-21LM-CT | 100 Volt | Yes | 21″ |
| Snapper XD | 82 Volt | Yes | 21″ |
| Greenworks Pro | 80 Volt | Yes | 21″ |
| Kobalt | 80 Volt | Yes | 21″ |
| Greenworks Pro | 60 Volt | Yes | 25″ |
| Greenworks Pro (Next Gen) | 60 Volt | Yes | 21″ |
| Toro Recycler | 60 Volt | Yes | 22″ |
| Craftsman V60 | 60 Volt | Yes | 21″ |
| Earthwise #65821 | 58 Volt | No | 21″ |
| EGO Power+ LM2020SP | 56 Volt | Yes | 20″ |
| WORX | 56 Volt | No | 20″ |
| Snapper HD | 48 Volt | Yes | 20″ |
For me I've been experimenting with a bunch of different cordless electric mowers this year and I've researched more of them than I can even count right now.
For my yard I want to use a battery mower because they are quiet and my kids are frequently out in the yard with me while I mow but I absolutely need something strong enough to get through my dense turf.
Before we get to the list of my reviews and comparisons I wanted to first describe the relationship between a cordless mowers voltage rating and it's amp-hours and what Max voltage is compared to the mowers operating voltage.
You can jump straight to my reviews by clicking this link.
What The Volts and Ah Numbers Mean on Cordless Mowers
Basically volts is the raw power produced by the battery and Ah is code for how long the battery will run. That's not exactly correct but it's a good rule of thumb.
Generally speaking a 2.5 Ah battery will run half as long as a 5 Ah battery and an 80-volt battery will have twice the potential strength of a 40-volt battery.
There is a lot to it though and this article isn't the place to go into the science of it all so if you want to know more about how these batteries work then see this page.
This article is however the place to go for honest assessments of how strong these mowers feel based on my own personal use of them.
To summarize the mowers below – Each of these mowers have high voltage batteries that are able to produce a ton of torque. You can save money by buying these mowers packaged with batteries that have lower Ah ratings however most people find the price of getting the higher Ah batteries to be very much worth it.
Most of these mowers can be purchased with your choice of battery configurations. For instance I have a Snapper XD 82-volt push mower that came with two 2.5Ah batteries instead of one 5Ah.
Options like these can be nice especially if you plan on picking up complimentary tools like blowers, trimmers, or snow throwers, etc.
Now starting with this video I published on YouTube let's dig into my summary of the mowers on this list.
Which is the Best Cordless Mower of them All?
Currently I have well over ten mowers included on this page but of them I would consider only 3-4 of them to be "best"… and even then the best one for me may not be the best one for you.
My favorite three mowers are:
The Snapper XD 82-Volt Push Mower (See my Review Below | See sales page on Amazon)
The Toro 60-Volt Recylcer (See my Review Below | See sales page on Home Depot)
The 80V Greenworks Pro (See my Review Below | See sales page on Amazon)
These are my favorites because of their overall strength and usability relative to their price
Basically, every mower on this list is strong enough to do the job for just about anyone out there but only these three are good enough for me to give away to my mother. They are just better in a variety of ways that I will get into lower on this page.
Now let's summarize each of the mowers I've tested (in order of voltage) before we get to full mower reviews (and alternatives) which are listed further down the page.
1. Yard Force 120-Volt
By a clear margin the Yard Force battery mower is the best in terms of strength. It's battery/motor combination get's up to 120-volts at peak strength and it can run for over an hour straight in most conditions. It is quite pricey though so I like to recommend many value shoppers to opt for another one of my favorites the Snapper 82V.
2. SunJoe iON100V-21LM-CT 100V Max
This mower is one of the strongest and cuts the lowest of all the mowers but the blade is pretty thin and flexible. I don't recommend it because the blade is insufficient even though it is extremely strong, beautiful, and full of fancy features like easy folding, extra USB ports on the battery, and really fast and easy self-propulsion.
3. Snapper 82-Volt (Comes in Push/Self-Propelled/StepSense Versions)
Although this machine pushes less voltage than the Yard Machines and SunJoe units it costs considerably less and I find the 19″ push version to be the most enjoyable battery mower to handle. I also love how this mower revvs up to max power very easily and quickly compared to alternatives on the market. It's batteries charge crazy fast and if you like cutting low this cutting deck closer to the ground than most of the others I've tried with the exception of SunJoe's 100v mower. If you like Toro's self-propelled system Snapper has a fancier 21″ version of this mower with StepSence that rivals Toro's offering.
4. Greenworks Pro 80-Volt 21″ Mower
Summary here.
5. Greenworks Pro 60-Volt (Second Gen)
How can a 60-volt machine be one of the best when there are so many mowers that are more powerful? The reason is that this new 60V version is significantly upgraded from the older 60V Greenworks mowers. This unit can handle two separate 60-Volt batteries at the same time giving twice the run time of other mowers and the machine comes with a unique feature that no others can boast. This mower has a "Turbo" button which overrides the smart-sense technology and puts the mower in full RPM mode on-demand. Having this option makes cutting and mulching much better!
6. EGO Power+ 56-Volt LM2020SP – Self-Propelled w/ Select Cut Blade
This is my pick for runner up because it's not as strong as the others and it's cost is on the high side but it's still a great tool! EGO has been a leader in battery powered mowers for a while now and this one is their top-of-the line machine as of Spring 2020 and 2021. It's much stronger than 40-volt mowers but the features make this a top competitor to the even stronger options on the market today. This mower fold up for storage super easy, it's got a dual cutting blade for enhanced cutting, bagging, and mulching and it's very comfortable to handle. The blade system IMO is it's best selling feature.
---
With the "Best Of" category out of the way I now want to actually reveal to you which of these mowers I actually purchased and own and use on a regular basis. Then I'll get to full reviews and mower comparisons.
Again you can skip this section and jump right to my reviews with this link.
These Are The Lawnmowers I Actually Bought and Own
Below you'll find a list of the biggest and strongest battery powered mowers that I've found on the market this year. I own some of these and others I've simply researched.
I'll add my personal thoughts on each on and review and compare them as best as I can.
For you internet readers I want you to know that I'm a real dude with kids in the yard at my side. I love lawn care and you can trust that all thoughts on this page are meant to help you out in your lawn. I will be adding affiliate links below to products but in no way do I want to make you buy one product over another. That's your decision.
Now let's get to the list.
What Are the Strongest Battery Operated Lawn Mowers for Sale Today?
In my garage I currently own and use the following two electric battery mowers, the Earthwise 20″ Dual 40V Push Mower – Model 60420 and the Greenworks PRO 21-Inch 80V Cordless Lawn Mower.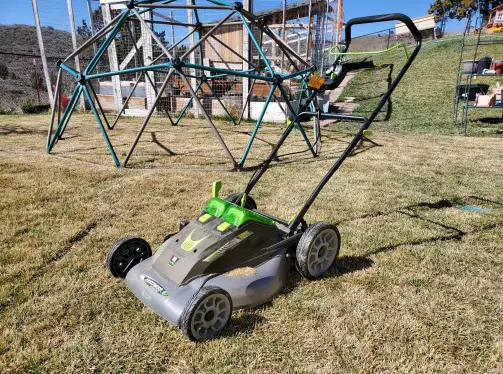 The Greenworks Pro 80V is by far stronger than the Dual 40V model from Earthwise because that machine only runs on a single battery at a time. You can store both batteries in the machine at the same time or you can run the mower off one battery while charging the other one.
No matter which setup you choose the power output will be the same and in dense or over grown grass the Dual 40V always bogs down and even overloads and shuts itself off. Also, when in mulching mode the machine simply doesn't have enough power to efficiently mulch the clippings and spread them out evenly. They are always under mulched and clumped around the wheel marks.
The Greenworks Pro 80V only has the one battery terminal so the full 80 volts are used to power the machine while you run it.
This machine is more expensive but with the larger 4aH battery size I can always get through my entire lawn in one charge and I don't see nearly the amount of laboring or poor mulching see in the cheaper dual 40-volt option from Earthwise.
Pricing for the Earthwise on Amazon is actually similar to the Greenworks Pro 80-Volt right so I'd buy that Greenworks again without any reservations.
You can see pricing and specs for these two mowers on Amazon in the following links:
► The Earthwise Dual 40V 20″ Cordless Mower – Also comes in a similar style, the larger 21″ 58V version.
► The Snapper XD 82V MAX 19″ Cordless Mower – Also comes in 21″ and 21″ self-propelled versions.
In the near future I'll be expecting delivery of two more of the strongest cordless mowers on Amazon and I'll add to this post with my thoughts on those machines after I use them for a few cuts.
I'll be reviewing and comparing the Snapper XD 82V MAX 19″ Cordless mower and the EGO Power+ LM2000-S 20-Inch 56-Volt mower.
Head-to-Head Mower Video Comparisons
I've decided to make individual video reviews and comparisons of many of the mowers featured on this page. You can see all of those videos in the list below.
Toro 60-Volt Recycler: My First Impressions
Is The SunJoe 100-Volt Battery Mower Any Good?
Why The EGO 56-Volt Select Cut Mower With Touch Drive Isn't Worth It
The Main Reasons Why I Really Like The Snapper 82-Volt Push Mower