Hello and welcome back to Turf Mechanic, your daily guide to a perfect lawn! In today's article, we are going to take a look at the best sprinkler for the windy areas. There are a lot of sprinklers in the market- in fact, there are just so many that it's hard to differentiate! You simply can't tell what which one's designed for, and that's exactly why we are here!
We here at Turf Mechanic try to help you know more about the products available. We also encourage you to learn how to judge for yourself, so that you can always buy the best one! In today's article, we are going to take a look at the best sprinkler for windy areas.
So, are you ready to learn about the best models out there when it comes to this? Well, let's get started then! However, before we do, we really recommend that you check these out:
How does wind affect my sprinkler?
Before finding out the best sprinkler for windy areas, it's important to figure one thing out. You need to know what effect wind has on your sprinklers, after all!
Sprinkler nozzles are barely the best thing when it comes to facing the wind! Also, the water's course can easily be altered mid-air if the wind is strong enough.
The main effect that wind has is that it affects the direction the sprinkler throws water in. The sprinkler relies on the angle it makes from the base, and the pressure it throws the water with. However, if the wind can overcome this velocity, your water might as well go in the opposite direction! Quoting Orbitonline:
For example, I recently spoke with a customer from southern California, who, for most of year, doesn't have many problems. He recently purchased a new home and his yard is not getting the water it needs. Because of his location, he has greater than normal exposure to seasonal Santa Ana winds, with evening and night time winds much higher than the rest of the region. In case you didn't know, wind and sprinklers are not a good mix. Sprinkler nozzles are especially ill suited for windy areas because the water gets blown all over and you never get the consistent watering they're designed to give. So, if you live somewhere with similar problems, check out these tips for solving the problem.
So, for the areas that are affected with wind, it becomes really important to actually be selective with sprinklers. You need to get a sprinkler that can actually resist the influence of the wind. This can actually be done in quite a few ways, the main ones of which are as follows:
Greater Pressure: The simplest way is to just increase the pressure with which it throws the jet of water. This is by far the most commonly found method that's used out there.
Greater Angle: Next in line is increasing the angle. Naturally, it becomes harder for the wind to affect it if the angle is so directed that the jet should not easily be turned around just because of a little wind.
What are the main things that I must consider in a windy area?
There are quite a few things that you must consider if you live in a windy area. While some of these things are related to your sprinkler, some are actually related to properly using them. Naturally, a perfect solution combines the right equipment with the right knowledge, and that's what we're here to help you achieve.
So, the main things that you might want to keep in mind in a windy area are as follows:
Size of Lawn: The Size of the lawn is a crucial factor when it comes to wind. Small lawns are less prone to the effect, while larger lawns are harder to save from it. So, the size is of utmost important and you must keep this factor in mind at all times. If you have a fairly large one, a little wind is pretty much unavoidable and you simple have to plan ahead.
Time Selection: You need to be really careful about the timing for watering your plants. For example, there are certain points of the day when the wind is naturally stronger. If you're in a wind-prone area, you must keep this in mind and act accordingly. Try to choose the time when the winds are comparatively weaker, and you might be able to solve much of the problem.
Again, some of the sprinkler related things you might want to keep in mind are as follows:
Type of Sprinkler: Choosing the right type of sprinkler is vital when it comes to windy areas. Not all sprinklers are equally effective, and the right type for you depends on the size and type of your lawn. With proper caution here, you can actually take care of a large part of the problem.
Pressure: The Pressure that the sprinkler can throw the water with is something that must also be taken into account. If it can throw it in a stronger way, it naturally can fight a little more against the wind. So, you might want to check out the nozzle pressure before you go for a sprinkler.
Spacing: Spacing is actually a really important part too! Once you have experimented a bit, you'll find that properly spacing the sprinklers can help you cover a lawn without overwatering or undertwatering it! Quoting SFGATE:
Using a mixture of rotary and bubbler sprinkler heads requires planned spacing between each emitter for proper garden coverage. Sprinkler sprays should not just slightly touch one another as they meet in the middle of the yard, such as with rotary heads. In fact, the sprays need to overlap considerably so that water can reach all of the yard areas during windy conditions. If you have extremely windy conditions on a constant basis, then, as a rule, a sprinkler's water spray should almost strike the next sprinkler head; this coverage allows some wind interference without overwatering or underwatering the yard.
Some Recommended Sprinkler Heads
Now, the right type of sprinkler head also has a lot of say in windy areas! So, selecting the right one would make things much easier for you! Naturally, there are a lot of them and it might not be really simple to hunt for the best ones- but you don't have to worry, because we've already done the research for you!
Here are some of the most recommended sprinkler heads and their main features:
The Orbit55662 Voyager II Sprayhead is one of the most loved ones out there when it comes to fighting wind! This is the first sprinkler head that experts recommend for windy areas! And honestly, it really isn't hard to see why when you take a look at its main features!
The main features of the Orbit 55662 Voyager II Sprinkler Spray Head might be summed up in the following points:
Primarily, it boasts of a 40° to 360° Pattern as well as a 25′ – 52′ Spray Distance.
Again, the spray adjusts from a 20 ft. to a 40 ft. radius in a part or full circle, giving you enough flexibility to perfectly water your lawn.
It has a quiet, dependable drive with the standard 3/4 inch female inlet thread, making it compatible with all major brands such as the Rainbird, Hunter and Toro!
It's actually a pretty economic product too. While it isn't the cheapest one available out there, it still is fairly affordable!
The Orbit Voyager II gear drive sprinkler is the perfect replacement for medium-large to large areas of you lawn and garden. The Voyager II, with its spray diameter of 40-80 ft., is perfectly suited for many applications where even water distribution is required such as large lawns, fields and ground cover. Not only is the diameter adjustable, but the swing arch can be changed with included adjustment tool in a matter of seconds, giving you a swing of 40 top 360 degrees.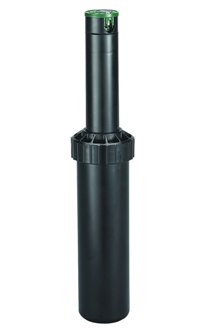 The next option that a lot of experts recommend is the Orbit 55069 Staturn III Sprinkler Spray Head. This model also deserves the name that it boasts of in the market, owing to the fact that it provides you with a similar level of versatility as the Voyager, and also does the job really well!
The main features of this model might be summed up in the following points:
For this model, the spray adjusts from a 15-25 ft. radius in a part- or full-circle pattern. This makes this model ideal for a medium-sized lawn, while the voyager is a better choice for slightly larger ones.
This model, as you can say from its name, is gear driven. The model also boasts of the same silent and smooth functioning as well as of a 4 inch popup height.
Chances of clogging are also reduced by a great margin thanks to the removable filter that it offers you.
This model is also a really affordable model, and the people have actually loved this model! So, if you're buying something like this for the first time, you might just choose to give this model a shot!
And then there's the classic Rain Bird. It's one of those products that everyone can't help but adore! It's just made such a name for itself in the market that a lot of people simply refuse to go for anything else!
And honestly, it kind of deserves the name too! But what are the main features of this specific model? Well, that's what we are going to take a look at, and here we go:
This specific model, the Rain Bird Rotor Heads 5000 Rotor Sprinkler Head, boasts of 40-360° arc rotation and reversing full-circle rotation.
Again the heavy-duty retract spring assures positive pop-down, which increases the durability of your product in the long run, making it a smart investment!
As usual, this model also comes with the standard 3/4 inch female inlet and a standard 4 inch popup height.
People who have actually used this model have loved using it and they actually recommend it! This is one of the strongest points when it comes to any product, and this generally means that this product is a good one to go for.
Also, this model is also fairly affordable, so you really don't have to worry too much about the budget when going for this. This makes this a great product with great features that's available for everyone, what else do you need to know?
How to choose the right Sprinkler / Sprinkler Head for me?
Well, you must keep in mind that the best model actually depends on the specific situation. So, it really is not possible for us to give you generalized advice about which model would be the best. However, we have already discussed the main points that you need to know in order to judge every model.
So, all you need to know is what you're looking for. Once you know that, it becomes really simple to find the right model- all you have to do is judge every model accordingly. Also, keep in mind that the best model for you isn't the one that's the most selling or the most/least expensive, it's just the one that serves all your needs at the most reasonable price.
As long as you keep this in mind, you really don't have to worry. We here at Turf Mechanic are always there for you! So, if you ever need any help, you can come to us and we will try our best to help you out in any way we can!
Thank you for taking your time to read today's article, and we really hope to see you soon on our next article! Until then, you might want to check out our other articles right here at Turf Mechanic- here are a few to get you started: