If you need a dead simple quick connect set for your garden hoses, spigots, and watering nozzles…but you are also disinterested in using cheap disposable products that leak, fail, and limit your then I've got the solution for you. I did a deep dive into quick connectors and bought and tested a bunch of them myself so that I could share with you my findings.
I use lots of different watering tools all over the yard and in our garden and my hands are regularly dirty so being able to depend on something to be durable and easily interchangeable was important to me as was my desire to find a simple line of accessories that wouldn't limit water flow to my sprinklers or my soaker hoses and wouldn't leak. I hate leaks.
Through trial and error I finally stumbled onto Eley quick connectors and become a convert.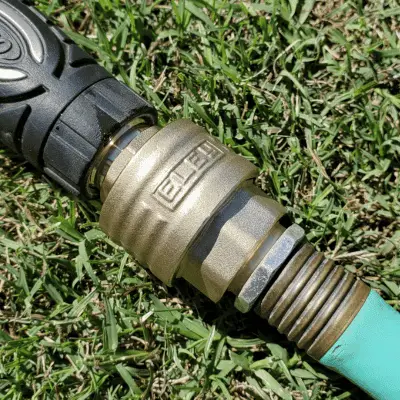 They aren't the cheapest by a landslide, but they are easily the best connector I've ever tried or seen.
You can easily connect and disconnect using only a single hand,
The inside diameter of the connection (at it's slimmest) is still 3/4″ so there's now reduction in water flow or pressure,
they are made from drinking water safe materials (lead-free brass),
they can be easily cleaned/maintained to keep them functioning like new unlike other alternatives,

and they don't leak – they just don't ever leak or crack – they are crazy durable

I bought a number of sets for use around my yard and in my garden on my hoses, spigots, sprinklers, and nozzles and even though I noticed it on my bank statement I don't regret it; these things are awesome.
What Are The Next Best Quick Connectors For Sale?
By far and away the best step up from the cheap plastic quick connects that you find at local hardware stores is the "expensive" brass connections that are sold everywhere. They can be bought by no-name brands or well known brands and although they all are leaps and bounds better than the plastic fittings they aren't as long lasting as they may seem.

These HQMPC connectors have extremely high reviews on Amazon and I've recommended many people to buy them here on this website but they do fail faster and harder than the Eley's I talked about above.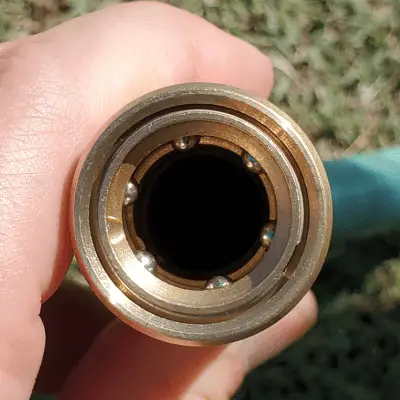 The reason these and others like them fail have to do with the balls inside that seem to gum up over time and the ring that you pull back to release sometimes start getting stuck as it ages outside.
I also don't want to call them my favorite quick connects because although the piece is a 3/4″ GHT (garden hose thread) accessory the inside diameter of the fitting is narrow resulting in lower water flow through the connection. Most people wielding a hose with nozzle won't notice but if you are powering a sprinkler or any other kind of irrigation system through it it might make a difference negatively.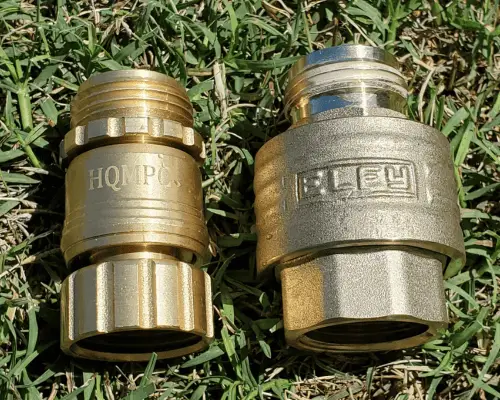 Pricewise however the HQMPC's cost almost a third that of the Elly set so they may make sense for a lot of you, especially those of you that need to buy a bunch of sets where the dollars can start to add up fast.
I've referred a LOT of people to these over the years and nobody has complained to me yet, but they are cheap enough to be replaced easily if and when they eventually fail or get damaged.
Notable Mentions – Easy Connect Fittings That Work Great
Here are a few other sets that you'll see referenced in many review articles online and in YouTube videos. I've tried each of these and although some are good and almost great, I just don't think are worth it for most people compared to the two options I reviewed above.
Gorilla Solid Brass Easy Connect Fittings

These are very affordable, very durable, very easy to use the collar one-handed, but the inside diameter of the joint is very narrow, and the company does not advertise these as lead-free either.
They do have a firm snap sound when they are coupled correctly though which can lead to fewer accidental leaks and the brand has a lot of additional connector fittings that pair well with the female side giving you peace of mind the brand system will be around for years to come.
You can get male nozzles that plug right into the female collar and if you want to pay a little more, they have a very nicely designed solid brass female couple with a build in shutoff valve. This is great for controlling water flow to a jet nozzle from the end of the hose or relieving a plastic grip nozzle of water pressure in-between uses.
---
Eden Garden Connect (With Shutoff Valve & Fitting Lock

This is a really nice quick release adapter to your hose because not only does it allow you to connect and remove a hose from a water source in a couple seconds, but it also has a built-in shutoff valve so that you don't have to run to the spigot to turn all the water off to swap out a nozzle real fast.
Not only that but the collar can be turned left and right to lock and unlock the quick release feature so that you are far less likely to accidentally release the male end from the female end while using a handheld hose end attachment.
The price is still VERY low and affordable per set, the cheapest option featured on this page, but the units are made of plastic…they will most likely have to be replaced every couple seasons or so depending on how much wear and tear you inflict on yours.
---
Orbit Metal Quick Connectors

In my opinion these Orbit fittings are a great step up from the Eden's which are much cheaper (unless you really want the built-in shutoff valve) because they will be much more durable.
Who hasn't just dropped on purpose or on accident the hose to the ground at some point. The plastic fittings are much more likely to crack and have to be replaced than the brass orbits which only cost a few dollars more.
I don't think these are as easy to use as the Gorilla or HQMPC's listed above on this page because the collar is small and cumbersome, making it harder to open but the price is a touch lower so that makes it feel like a better value. It's also nice that most big box stores carry these so buying extra male or female fittings is very quick and easy on a moment's notice.
---
Melnor – This name gets tossed around a lot because they are a titan in the lawn and garden space, but I just don't like any of their options for hose quick connects. If you know of something I don't know though then please let us all know in the comments of this YouTube video.
One Last Important Thing To Note
Before you go spending a bunch of money fancy fast release hose connectors you should note that another side benefit of buying brass fittings by Eley is that all their brass fittings are lead-free and should be drinking water safe.
Most brass fittings when tested for lead contain unsafe levels and as such many sellers of solid-brass connectors won't say they are lead free including HQMPC…but Eley does make that claim.
I'm not trying to tell you that you have to buy lead-free fittings for your hoses but I will tell you that if you do choose to buy drinking water safe quick connects then you might want to use a drinking water safe hose as well. No point in going only half-way right?